Life at Impeccable
Life at Impeccable
Fun at Work
We have fun, while delivering great softwares.
offer flexible working hours and a homely environment to our employees.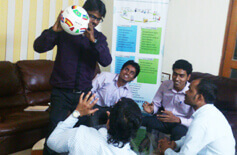 Team Outing
We believe in team work and to build a good working environment Its imperative that team members should get along and understand each other.


It is the most frequently asked question that why choose us for your IT Solution among many others available. In short the answer is we are purely technical people who love to get challenges to convert any business processes or strategy in IT.
There are lots of professional IT companies who offer good solutions at luxurious prices and there are others which are low on budget but low on quality too. We have established a fair balance between the price and the product offered. Our solutions cash-in on the enormous experience of our team, combining their skills and attention to detail, to create a great user experience for your IT need.
The first step is collecting brief information about client's business and its goals. Tell us about your business or service, your project, so that we can understand your mission, objectives, identify the target audience, assign responsibilities, clarify all details and estimate a budget.
Project Requirements analysis is actually the most significant step of web and software development. It involves :

- Planning workflow.
- Time management.
- Requirements analysis.
- Application/Software/Service Development Stages at ISPL
Once the requirement is collected from client then we do Prototyping/Blue Print of project and share it with client team. Upon signup we start coding the system with selected technology. Success is guaranteed if there is team work between client and our developers so we always suggest out clients to work collaboratively with us during the whole process of development
till Go-Live.
We develop low risk and affordable software solutions by harnessing time-tested methodologies that can foster useful results at a reasonable rate. Instead of relying on formula solutions, we believe in rolling up our sleeves for developing innovative action plans and output.
We follow prominent Agile & Waterfall model for strategic software development. And, our methodologies are flexible enough to accommodate the needs of large enterprises, SMEs, as well as entrepreneurs. We understands business and the need to roll out Minimal Viable Product (MVP) at the earliest.
We are a custom software, web and mobile application development company, and as such, we do not have "standard" prices for website development projects. Each client has different requirements, and we have done projects for $500 and others for $100,000+.
To get an accurate quote you will need to contact us with your high level requirments. When you contact us, you will speak directly to someone from our client facing team. They will discuss your project with you in detail and help you decide if we are the right fit for your project and your company.
We do both T&M and Fixed bid projects.
Have a project in mind?
Just provide some preliminary information and our team member will contact you soon.