Our delivery models can be used to staff targeted projects with finite deadlines and ongoing maintenance and support projects. Our offshore delivery model, onsite delivery model and hybrid delivery model structures are designed to meet unique client requirements. Whether outsourcing is part of your strategy for cost reduction, or you wish to use offshore or outsourcing resources to supplement your operations, there is a delivery model to meet your need.
Like all of our services, our delivery models are strategically designed to offer extreme value, rapid response and appropriate knowledge and skills for every client project or IT staff augmentation need. We invite you to explore these delivery models to find the one you feel is best suited to your needs.
Offshore Delivery Model
The Offshore Delivery Model is ideal for clients who do not have IT resources or when a client does not have enough IT resources to staff a particular project or need. The Offshore Delivery Model can supply resources quickly and is affordable and cost-effective for all budgets. This model does not require the client to make sacrifices. While the team is working offshore, client and supplier communication and documentation is appropriate and timely so that the project is always on track and the client always has the most current information.
Onsite Delivery Model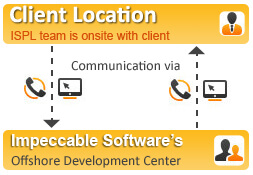 The Onsite Delivery Model is perfect for repetitive or open-ended projects that require close coordination with the client. In this model, the client is assigned one or more dedicated professionals with appropriate skills and knowledge. This team will remain onsite for a particular phase of the project, or for the entire project, as is appropriate to the unique requirements of the client and the nature of the project assignment. The Onsite Delivery Model leverages our experience, skills and quality resources and our client-centric approach to deliver a customized fit for every client.
Hybrid Delivery Model
The Hybrid Delivery Model combines the best of both worlds. Elements of the offshore and onsite delivery models are incorporated to provide unique development, programming, project management, support or maintenance services in a way that specifically addresses the client project and needs. For example, the client may require a dedicated, onsite team during a particular phase of a project, while other activities or tasks may be performed in our Offshore Development Centre (ODC), e.g., feasibility, research, development, testing or support. If the teams are working in tandem, the onsite and offshore team members will work collaboratively to ensure that all tasks are performed in a timely and affordable fashion and in a way that provides, quality, value and focus to the client.